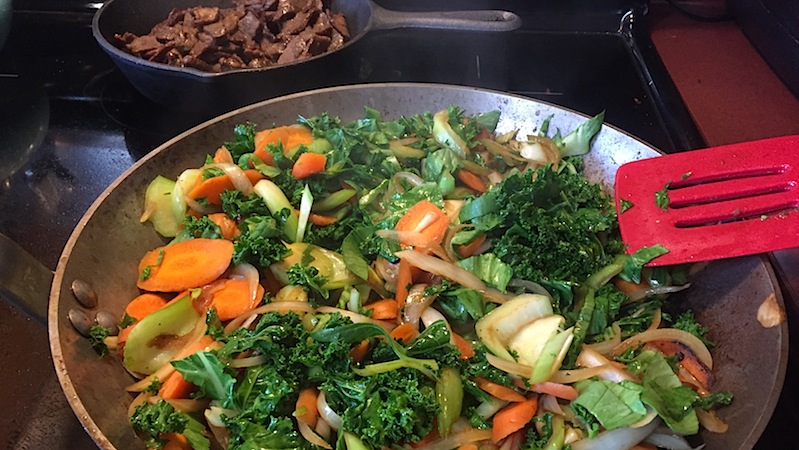 On a recent road trip to the magical town of Crestone, Colorado, I stumbled into a cafe where I had heard a Tibetan chef made exceptional curry dishes. I ordered up one of the stir-fry lunches and out came a steaming platter of vegetables and beef swimming in a bright gold sauce. It was amazing from the first bite.
Step 1
Even before finishing the meal, I was already mentally deconstructing the stir-fry, including the odd addition of kale, in hopes of recreating this culinary experience back at home on the other side of the mountains. As with many things, the secret is in the sauce, which in this case includes turmeric, one of the most powerfully health-promoting spices, and healthy fat from coconut oil. When added to organic vegetables and sometimes meats, it makes for a delicious and very nutritious meal. As it turned out, the curry was easier to replicate than I could imagine, and can be made with all organic ingredients.
Curry Sauce
Grind all spices with salt in a mortar and pestle. Melt about two tablespoons coconut oil in a sauce pan over low heat, then add the coconut milk. Add garlic. When warm, whisk in the spices and cook over low heat until it bubbles slightly, but do not allow to boil.
This will produce a pretty powerful sauce. Just remember you're not drinking it — you're using it to lend more flavor to vegetables. This recipe typically makes enough for a couple of stir-fry dishes and will keep in the fridge for several days.
Step 2
Heat a wok or big skillet to high heat. Quickly add coconut oil then the onions and carrots. Stir until carrots turn bright orange. Add the thicker stem parts of the broccoli and bok choy, stir for a minute or so, then add the tops. Finally, add any greens you are using. Cook only until bright green and do not overcook — vegetables should still be crunchy. Remove from heat and stir in curry sauce as desired.
Step 3
These vegetables can simply be served alone or go well as a side dish to many proteins, such as grilled beef or fish.
If you wish to include meat such as thin-sliced beef in this dish it's best to cook the meat first, then remove from the pan while cooking the vegetables. Add the meat back in before adding the sauce.
Serves: 3-4
Prep: 15 minutes
Cooking: 20 minutes

2 tbs coconut oil
1 cup coconut milk
1 tbs powdered turmeric
2 tsp powdered ginger
1 tsp ground coriander seed
1 tsp ground cumin seed
1/2 tsp ground fennel
1/2 tsp powdered cinnamon
1/8 tsp sea salt
3 cloves garlic, pressed
1 medium onion, sliced thin lengthwise
2-3 carrots sliced thin diagonally
1 or 2 small bok choy, sliced diagonally
1 bunch broccoli florets or regular broccoli, chopped
2 tsp coconut oil.
1-2 cups any leafy green, choppe — spinach, kale or chard.
Option: Add sliced or chopped fresh ginger to your liking.